Airline
Aeropuerto de Alicante Elche, 03203, Elche, Alicante Telephone 900 838 113,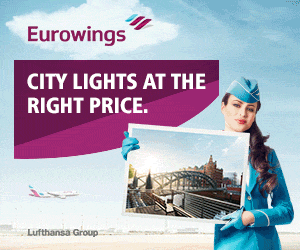 At the airport
Check-in counters at terminal:
Passenger terminal, floor P2, Check-in at Terminal de pasajeros, planta P2, check-in counters
Check-in counters may vary depending on the airport needs. Refer to flight Departures in the respective panels of information.
Lost Luggage
Baggage handler of Eurowings luggage:
,
Passenger terminal, Level 0, baggage claim hall.
History
Eurowings has the OACI code: EWG and the IATA code is: EW.
Eurowings is a low cost airline dependent of Lufthansa airline, based in Dusseldorf, Germany. It has Germanwings as subsidiary airline.
Eurowings Destinations:
Eurowings flies from Alicante to Dusseldorf and Stuttgart.
Note: Airlines can add or delete routes based on demand and/or season of year.
The range of destinations usually offered by Eurowings may vary due to low demand for flights, until the return to normal after the impact of the health crisis.
Check Eurowings last promotions